This is a picture of the coake ovens at one of the closed coal mines outside of Trinidad
While we were there they had a horrible forest fire.
These are just a few pictures from very far away

This is a historical house that was once used by the ranchers during winter months.
We almost ran into this moose along side the road. He was huge!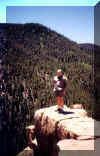 Joe almost falling into the valley along Monarch Pass